The gammy and dusted card you see above is none other than my partner in my endless retail therapies, my HBL ID. Though it isn't covered with a gold or silver film, having an identity of my own always rose me to cloud nine. A few weeks ago, on the buzz of my phone, it was none other than my bank inviting me to a launch of Always On! At Dolmen Mall, Clifton, Karachi. Since the launch was on a Sunday and yours truly didn't have to put in 9 hours of ceaseless efforts at the workplace, I planned on dropping by out of sheer curiosity to unveil what new is it that my bank is offering for online banking users like myself.
There came the much awaited Sunday- November 30th '14, with friends who vowed to pool in for a Noori performace at the event and ditched at the eleventh hour, I reached the venue just in time. Found the mall crowded like never before, singing along Noori as they sang and spotted numerous families posing at the special Always On Photo Booth. Turned out, HBL had revamped its e-banking services with an oath to provide it's customers with an even more enhanced experience.  In addition to offering a comprehensive range of features, the new internet banking would empower the customers with greater control of their finances.

First Time Login to HBL Internet Banking from HBL on Vimeo.
Since I was, and pretty much am, an e-banking user of HBL, I decided to absorb as much keynotes as I could and as the crowd enjoyed performances by Noori and were starstruck by the presence of Ali Safina, Ayesha Omer and Anoushay Ashraf, the very awesome yours truly got to see the corporate faces behind the brand itself. Spotted the chief guest at the ceremony- Mr. Nauman K. Dar – President & CEO of HBL and Mr Faiq Sadiq- Head Payment Services, who expressed his ways as follows:
"HBL as Pakistan's largest bank with over 7 million customers has always been at the forefront in delivering innovative banking products and services to its customers. The launch of this platform will allow customers to conveniently and efficiently carry out their banking transactions on the go. They can now experience utmost convenience in transferring funds, topping up their mobiles or for that matter paying their utility bills at the click of a button."
(God bless the soul who came up with online utility bills payment option!)
Mr.Sadiq added that this launch will be a major boost for the growth of electronic payments in Pakistan. As HBL looks to the future, it continues to innovate with the view of improving transacting convenience for its customers through HBL's 1500 plus branches, 1600 ATMs and diverse banking facilities. Our endeavor is to continue improving our services and the launch of internet banking is another step in that direction.
Introduction to HBL Internet Banking from HBL on Vimeo.
Oh, and here's a look at the tweeps I met at the Always On Launch, cookies for spotting Shaggy! 😀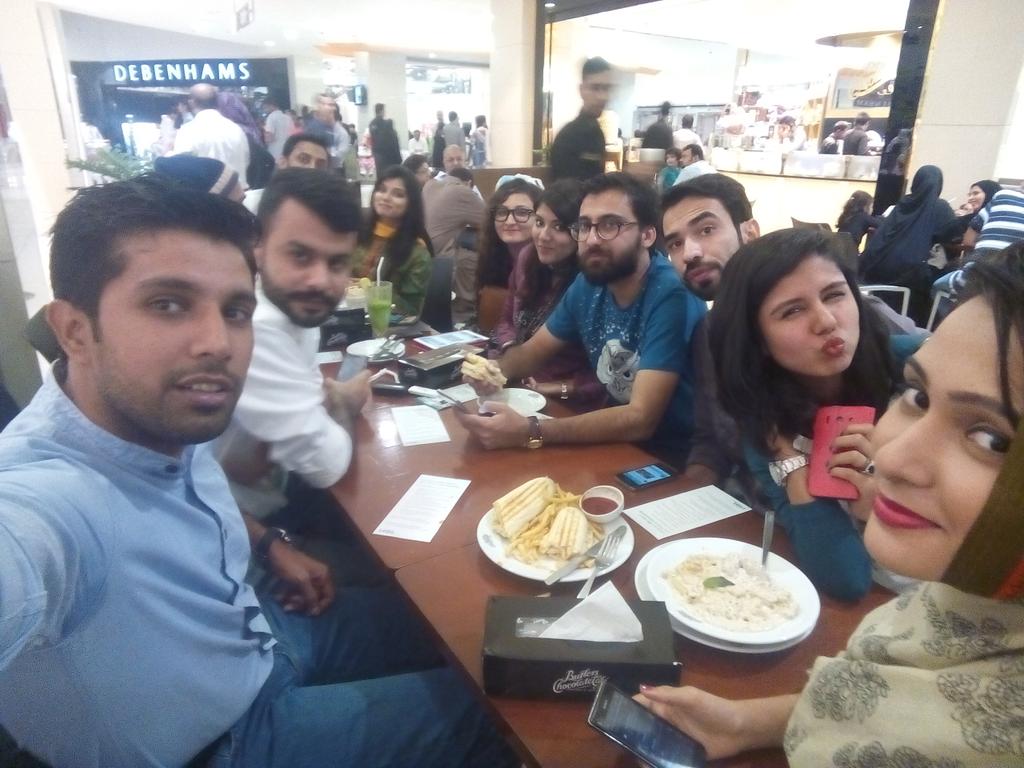 You can join the conversation and give your suggestions or feedback by tweeting with the #HBLAlwaysOn hashtag.
If you want to know more about HBL's Internet Banking Services or the launch event, check out:
Facebook: /HBLBank
Twitter: @HBLPak
Instagram: @HBLPak
On a lighter note, which bank are you with?